Best Supporting Male
Nominees
:
Michael Fassbender,
12 Years a Slave
; Will Forte,
Nebraska
; James Gandolfini,
Enough Said
; Jared Leto,
Dallas Buyers Club
; Keith Stanfield,
Short Term 12
MY VOTE: James Gandolfini, Enough Said
For one of his final performances, Gandolfini deserves the gold, and not just because it's the last time we'll be able to honor him for his consistently good work. This is a Gandolfini you've rarely seen before. It's impossible to not fall in love with him in this film. While Leto or Fassbender will probably win this one (though savvy voters would do better to stick with nominees not acknowledged by the Oscars), there was really no competition here for me. It's Gandolfini all the way.
Best Supporting Female
Nominees: Melonie Diaz, Fruitvale Station; Sally Hawkins, Blue Jasmine; Lupita Nyong'o, 12 Years a Slave; Yolonda Ross, Go for Sisters; June Squibb, Nebraska
MY VOTE: No Vote
Unfortunately, there is no way for me to see John Sayles' new film Go for Sisters, so I can't weigh Ross' performance against her fellow nominees. Of the other nominations I've seen, I would have to pick June Squibb, who steals every scene she's in. Hawkins is very good, and Diaz has great emotional scenes in her film's final act, but Squibb gives the most consistent and best performance of the group.

Best Director
Nominees
: Shane Carruth,
Upstream Color
; J.C. Chandor,
All is Lost
; Steve McQueen,
12 Years a Slave
; Jeff Nichols,
Mud
; Alexander Payne,
Nebraska
MY VOTE: Alexander Payne, Nebraska
A pretty strong category overall, with some clear frontrunners. Nichols won the Robert Altman Award, which honors a director and his cast for their collaborative work, making it easier to exclude him from this race. McQueen does a fine job, especially in the film's scenes of horror. Carruthers' narrative is best served by his editing, which is another category, and Chandor is able to make a compelling film with minimal dialogue using a very fluid director's touch, though Redford's directorial background makes me wonder how much of his performance and the film itself was influenced by his creative input. That leaves Payne, who I think does wonders with a great script, a dynamite cast, and a number of non-professional actors. He also brings out surprising dramatic chops in "SNL" vet Will Forte, which always impresses me.
Best Screenplay
Nominees: Woody Allen, Blue Jasmine; Julie Delpy, Ethan Hawke & Richard Linklater, Before Midnight; Nicole Holofcener, Enough Said; Scott Neustadter & Michael D. Weber, The Spectacular Now; John Ridley, 12 Years a Slave
MY VOTE: Julie Delpy, Ethan Hawke & Richard Linklater, Before Midnight
The screenplay for Before Midnight, and in fact for all the films in the Linklater-Delpy-Hawke trilogy, is unique because it marks a fruitful collaboration between two actors and their director, molding their characters into living breathing human beings that their audience can relate to. With Blue Jasmine warming over a Tennessee Williams classic, Holofcener's screenplay taking a very unusual (for her) sitcom-y detour midway through, Spectacular Now producing a vapid romance where the lovers say "awesome" in every other sentence, and a decent adaptation of a classic slave narrative filling out the category, there is no real competition here.

Best First Screenplay
Nominees
: Lake Bell,
In a World...
;
Joseph Gordon-Levitt,
Don Jon
; Bob Nelson,
Nebraska
; Jill Soloway,
Afternoon Delight
; Michael Starrbury,
The Inevitable Defeat of Mister and Pete
MY VOTE:
Jill Soloway, Afternoon Delight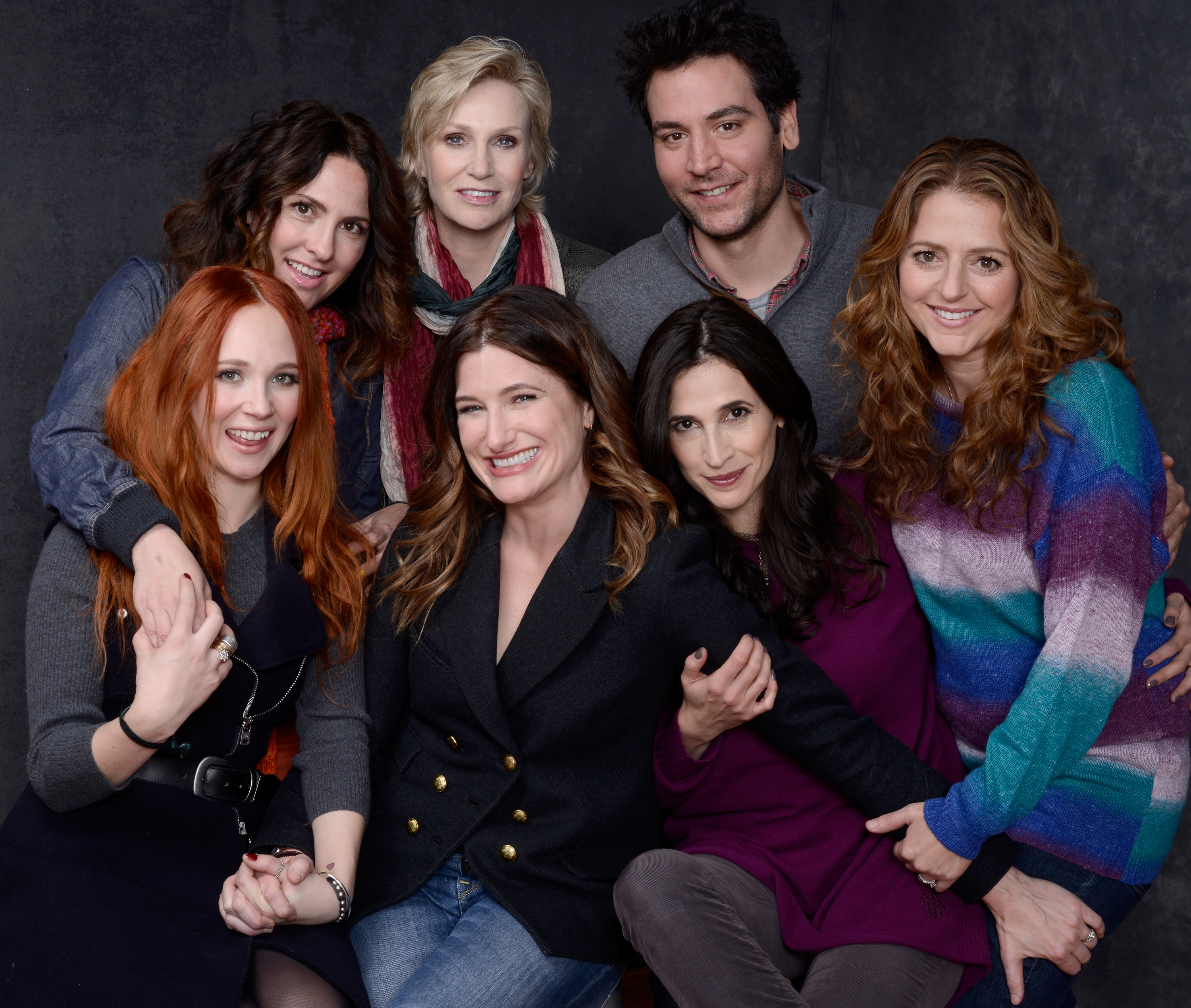 Truth be told, there are very few worthwhile nominees here. In a World is half a good script, half awkward improv with no real stakes in its conflicts; Don Jon blew an opportunity to say something a tad more profound on porn culture; and Mister and Pete sets the classic "kids abandoned by irresponsible parents" storyline into the Brooklyn projects. Even Nebraska, also Oscar-nominated, treads familiar territory made fresh by its performances and direction.
While Soloway's script is not perfect, with some discomforting moments involving a sex worker, it has so much quality dialogue and so many beautifully drawn characters (brought to life by a cast primarily made up of comedians) that it's easily the finest piece of work in this category. Soloway is someone to watch!
(seen in above picture top far left)
Best Cinematography
Nominees: Sean Bobbitt, 12 Years a Slave; Benoit Debic, Spring Breakers; Bruno Delbonnel, Inside Llewyn Davis; Frank G. DeMarco, All is Lost; Matthias Grunsky, Computer Chess
MY VOTE: Sean Bobbitt, 12 Years a Slave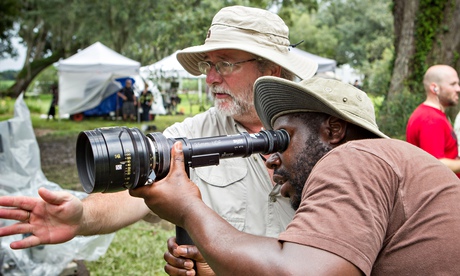 There are really three strong contenders here: the retro video photography in Computer Chess, one of the key factors to its success; the claustrophobic and underwater photography in All is Lost; and the beautiful composition of the tableaux in 12 Years a Slave. For some reason, Bobbitt wasn't acknowledged by the Oscars in a category I think the film deserves to win, so I'm giving him the award here.
Best Editing
Nominees
: Shane Carruth & David Lowery,
Upstream Color
; Jem Cohen & Marc Vives,
Museum Hours
; Jennifer Lame,
Frances Ha
; Cindy Lee,
Una Noche
; Nat Sanders,
Short Term 12
MY VOTE: Shane Carruth & David Lowery, Upstream Color
I'm surprised that Shane Carruth's mesmerizing enigma didn't receive more nominations, as it's the type of film that the Independent Spirit Awards loved before they started being invaded by larger-budget star-studded "indie" blockbusters. The only other films that impressed with their editing were the similarly micro-budgeted Museum Hours and Lame's striking work with montage in Frances Ha. However, Carruth and Lowery's work is what pieces together the puzzle of Upstream Color. The narrative and character developments all depend on the editing structure so beautifully assembled here. It will be a crime if they don't win.
Best Documentary
Nominees: 20 Feet from Stardom; After Tiller; Gideon's Army; The Act of Killing; The Square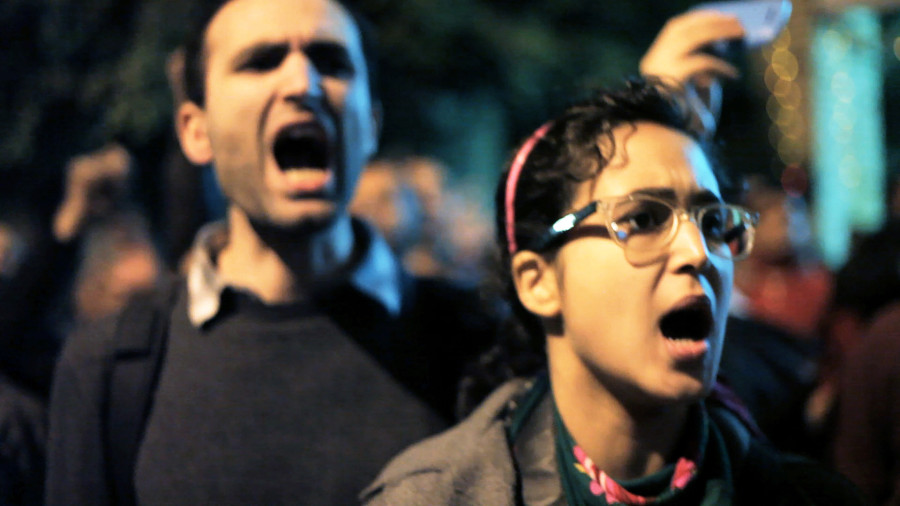 Another surprise, considering that I feel The Act of Killing is the best documentary of the year...but the Academy will likely recognize that as well, leaving me free to select one of the other four superb films nominated here. Which leads to another surprise, considering 20 Feet from Stardom was one of my favorite films of last year. But now that I've seen The Square on Netflix, I think this riveting document of the social unrest surrounding Egypt's leadership richly deserves the honors here. For the record, you should see all of these. This was the second-strongest category this year, presenting five nominees of the highest quality.
Best Female Lead
Nominees
: Cate Blanchett,
Blue Jasmine
; Julie Delpy,
Before Midnight
; Gaby Hoffmann,
Crystal Fairy and the Magical Cactus
; Brie Larson,
Short Term 12
; Shailene Woodley,
The Spectacular Now
MY VOTE: Gaby Hoffmann, Crystal Fairy and the Magical Cactus
I know, a surprise, right? Cate Blanchett gave the performance of the year with Blue Jasmine, yes...but she's a clincher for the Oscar, the ultimate acting achievement in the industry. This is an overall strong category, except for the inclusion of Shailene Woodley's doe-eyed dullard in Spectacular Now somehow kicking Greta Gerwig's sublime Frances Ha performance out of the race. Crystal Fairy was probably the least-seen film in this category, and as the title character, Hoffmann goes from bizarre and grating to lovable and fascinating. Her performance also makes the movie. If not Hoffmann, I think Brie Larson's Short Term 12 performance should bring her more substantial film work, though she loses points for being stuck with a ridiculous third-act home invasion scenario that took me completely out of the film. Even she couldn't save it.
Best First Feature
Nominees: Blue Caprice; Concussion; Fruitvale Station; Una Noche; Wadjda
MY VOTE: Wadjda
What a wonderful film! Filmed in Saudi Arabia by a female director, and focusing on the experiences of a young girl looking for a way to buy a prized bicycle and her mother struggling with her husband's desire to marry another (legitimate in Saudi law), this is a special kind of female empowerment in film. Fruitvale Station may be the more popular choice here, but for me it pales in comparison to the adventures of spunky Wadjda in a land with the cards stacked against her.
Best International Film
Nominees
:
A Touch of Sin
(China);
Blue is the Warmest Color
(France);
Gloria
(Chile);
The Great Beauty
(Italy);
The Hunt
(Denmark)
MY VOTE: No vote
Another category that I can't vote in because one of the films, A Touch of Sin, is unavailable for review. It comes to U.S. video and presumably download later in March. Of the others, my heart belongs to The Hunt, one of the most thrilling and unnerving experiences I had in a theater last year, though I also appreciated all the Fellini love to be found in The Great Beauty.
Best Feature
Nominees: 12 Years a Slave; All is Lost; Frances Ha; Inside Llewyn Davis; Nebraska
MY VOTE: Frances Ha
A no-brainer. Frances Ha was my favorite film of the entire year, so it beats all these nominees into the ground pretty much automatically. The only other real contender for me is Nebraska, which has received considerable Oscar love this year, so Frances it is.
Best Male Lead
Nominees
: Bruce Dern,
Nebraska
; Chiwetel Ejiofor,
12 Years a Slave
; Oscar Isaac,
Inside Llewyn Davis
; Michael B. Jordan,
Fruitvale Station
; Matthew McConaughey,
Dallas Buyers Club
; Robert Redford,
All is Lost
MY VOTE: Bruce Dern, Nebraska
Where Cate Blanchett is pretty much a sure thing for the Oscar, Bruce Dern's Oscar nom for Nebraska is more of a token of appreciation for decades of great acting often overlooked by the Academy. For some reason, while the female lead category was restricted to five nominees, the male leads were permitted to add one more to make an even six. My back-up choice here would be Michael B. Jordan's star-making turn in Fruitvale Station...but it's Bruce Dern all the way for me this year.
John Cassavetes Award (Best Feature Under $50,000)
Nominees: Computer Chess; Crystal Fairy and the Magical Cactus; Museum Hours; Pit Stop; This is Martin Bonner
MY VOTE: Pit Stop
The most difficult category this year!! All five of these films are wonderful minimalist films that I cherish, some more than others, obviously. Computer Chess is my least favorite, and Crystal Fairy is, I think, made great because of Gaby Hoffmann and its great final act. Museum Hours is photographer Jem Cohen's masterpiece, with so many memorable moments, and the very overlooked Martin Bonner was a marvelous surprise when I saw it at IFC Center. However, Yen Tan's Pit Stop continues his winning streak of producing quality character studies of gay men that has become his trademark in the indie film scene. It's the type of quality film the LGBT crowd needs more of, and Tan is overdue for recognition of his unique and welcome point of view.
Truer Than Fiction Award (Someone to Watch - Documentary Filmmaker)
Nominees
:
A River Changes Course
;
Let the Fire Burn
;
Manakamana
MY VOTE: No vote
Terribly frustrated that two of the films in the category are unavailable at this time. Let the Fire Burn is on iTunes, and I still need to see it.
Someone to Watch Award
Nominees: Newlyweeds; My Sister's Quinceanera; The Foxy Merkins
MY VOTE: No vote
The one film in this category I was able to see, via Netflix streaming, was Newlyweeds, which I thought had some good ideas and performances but was ultimately a mere fraction of a good film. Perhaps in that regard it deserves a "Someone to Watch Award" because the director could be capable of producing something better in the future. The other two films are pretty much impossible to see at this time.